Leaf Clean Up
Back in October, Cliff, Jordan, and Melissa spent the morning Making a Difference in our community! They helped clean up a neighbor's yard in honor of Make a Difference Day with United Way of Marathon County.

Trunk or Treat
The Kocourek Subaru shuttle got decked out for Trunk-Or-Treat in Marathon Park over Halloween weekend! Thanks to Alyssa, Natalie, Jacob, and Alicia for creating the awesome display and for volunteering their time to hand out candy!
Salvation Army Blankets
Kocourek Subaru had the opportunity to visit the Salvation Army of Wausau to deliver blankets in honor of Subaru Loves to Help! This season, Subaru and its retailers will have donated a total of 100,000 blankets and 50,000 pairs of socks to homeless shelters nationwide.

Humane Society & Subaru Loves Pets
We celebrated the end of Subaru Loves Pets month by delivering New Pet Parent Kits to the Humane Society of Marathon County to help new pet parents be set up for success! Melissa and Tyler even got to meet this sweet pup!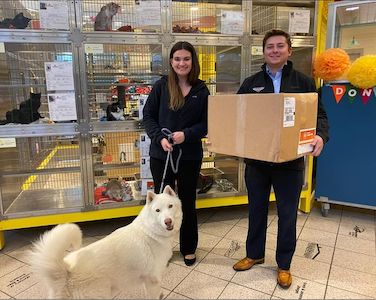 Adopt A Family
For the 2021 Holiday Season, each of our Wausau locations adopted a family through the Salvation Army of Wausau. We hope these donated gifts could help make their holidays a little brighter!